On Saturday, Sarah Brady, Jonah Hill's ex-girlfriend, accused the actor of "emotional abuse" and
shared several screenshots
of their text exchanges during their relationship.
The former couple began dating in August 2021 and made their first public appearance at the premiere of "Don't Look Up" in December of that year. They split in early 2022.
Sarah posted the screenshots on her Instagram Story, revealing texts from a contact saved as "Jonah" on her phone.
In these messages, Jonah made a list of demands for Sarah, who is a semi-professional surfer.
The texts outlined his expectations, including her deleting any photos and videos of herself in swimwear from her Instagram profile. The sender also set specific "boundaries" for Sarah if she wanted to continue a romantic partnership with him.
These "boundaries" included restrictions on Sarah surfing with men, having "inappropriate friendships" with men, pursuing modeling, and forming friendships with unstable women, except for limited interactions like getting lunch or coffee.
Sarah decided to share the texts on Instagram to address the damage caused to her mental health by keeping them private.
In a follow-up post, she clarified that she waited until Jonah's girlfriend, Olivia Millar, had given birth to their baby to avoid causing additional stress during Olivia's pregnancy.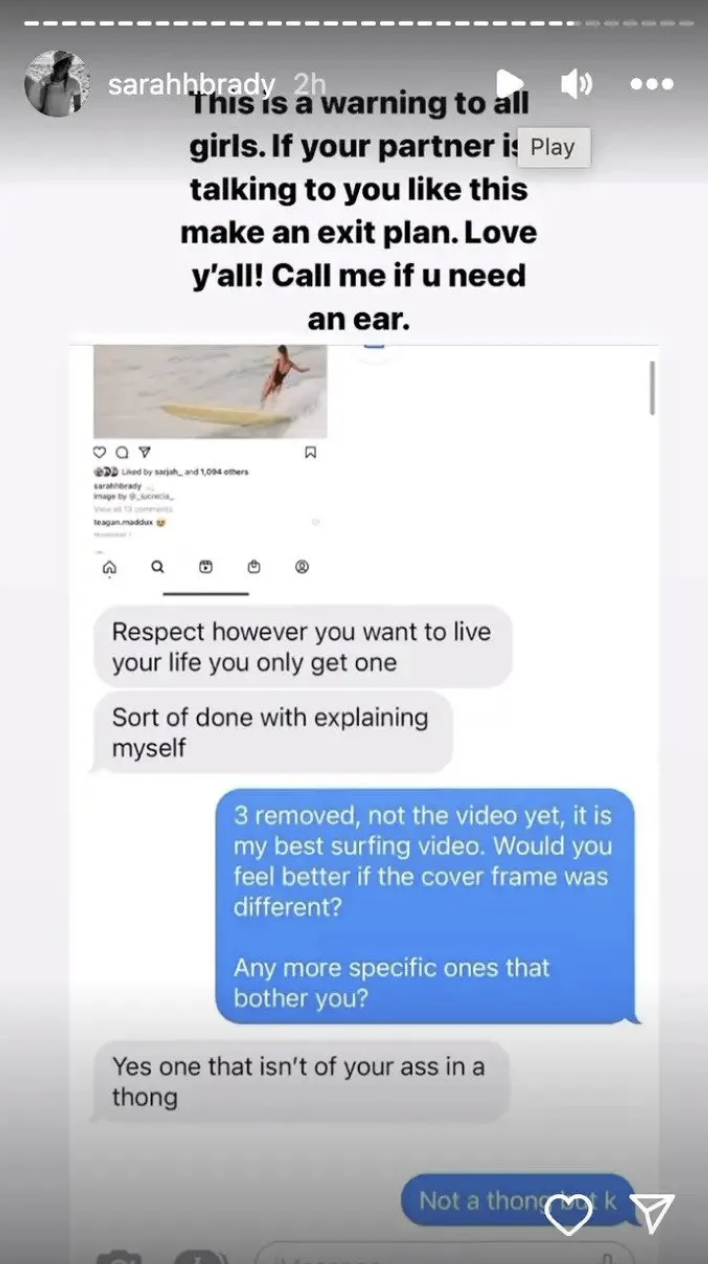 Sarah also shared additional screenshots that provided more context, including messages she had sent to her inner circle, indicating that she and Jonah remained close friends for six months after their breakup.
She claimed that he had continued to confide in her emotionally, visited her in her hometown, and informed her of his new relationship only after she moved to Hawaii for law school.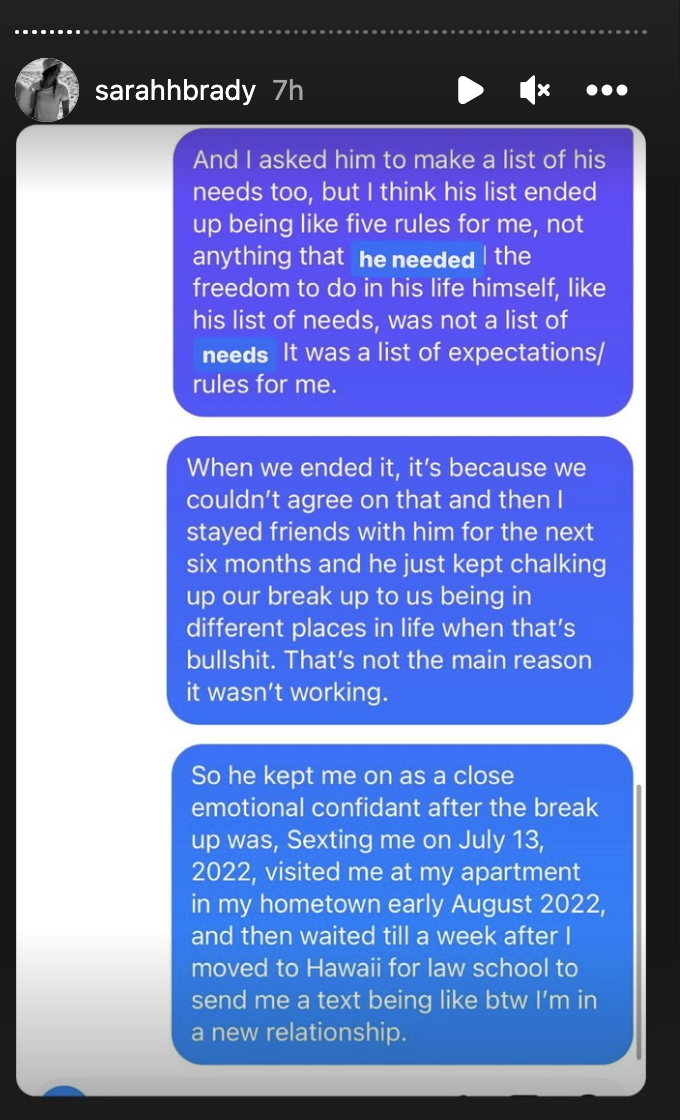 In one alleged exchange less than a year ago, Jonah asked Sarah if she was available to catch up. A text dated August 30, 2022, mentioned that Jonah had recently started dating someone and wanted to be transparent about it. Sarah shared paparazzi photos of Jonah kissing Olivia on the beach the same day, mistakenly thinking she was the one in the pictures. She expressed her surprise and asked Jonah to clarify the situation with his publicist.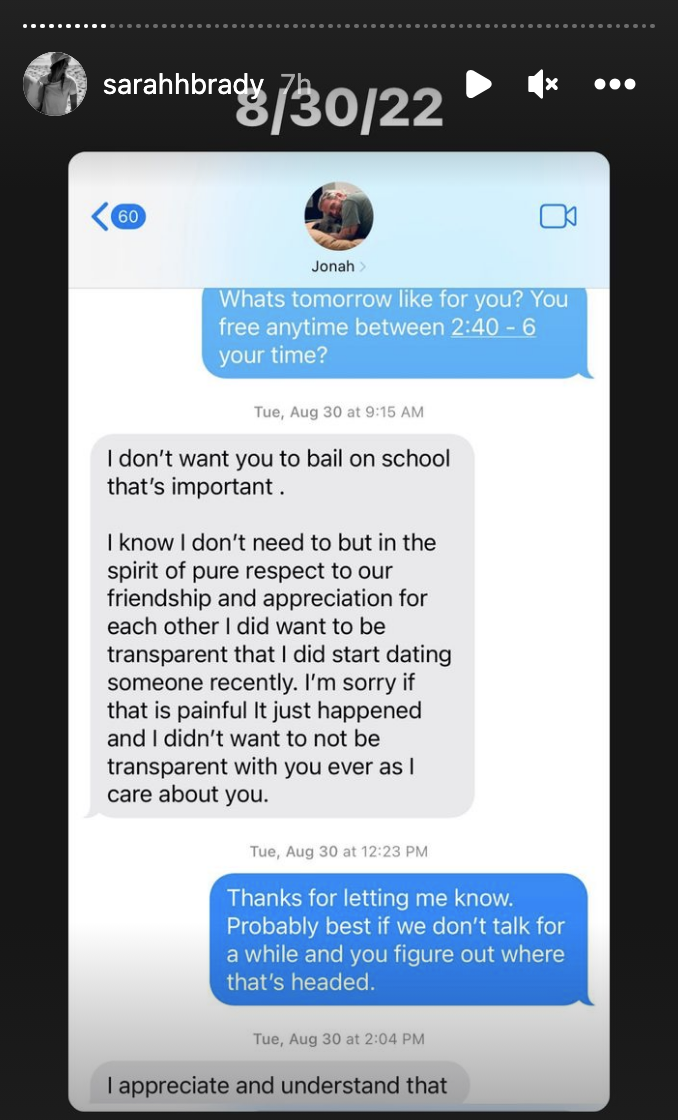 On August 31, Sarah texted Jonah, expressing her concern about his recent flirting, sexting, and reliance on her for emotional support while he pursued a new relationship. Jonah reacted with a thumbs-down emoji and denied flirting or sexting, emphasizing that he had been a supportive friend. He claimed that Sarah's actions shattered his trust and were unnecessary given their friendship.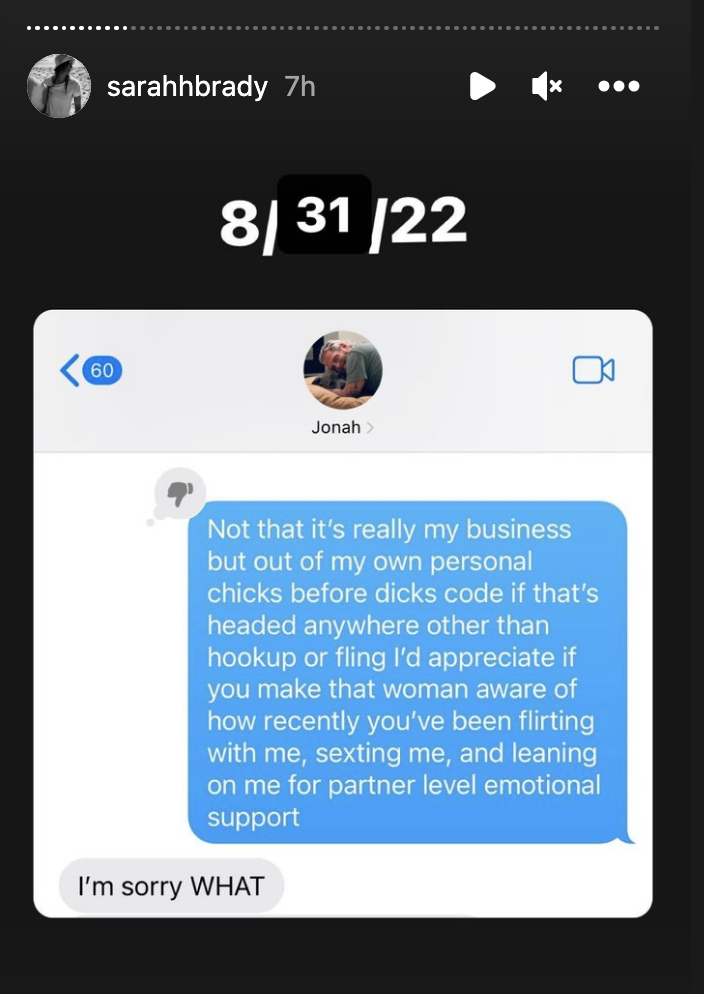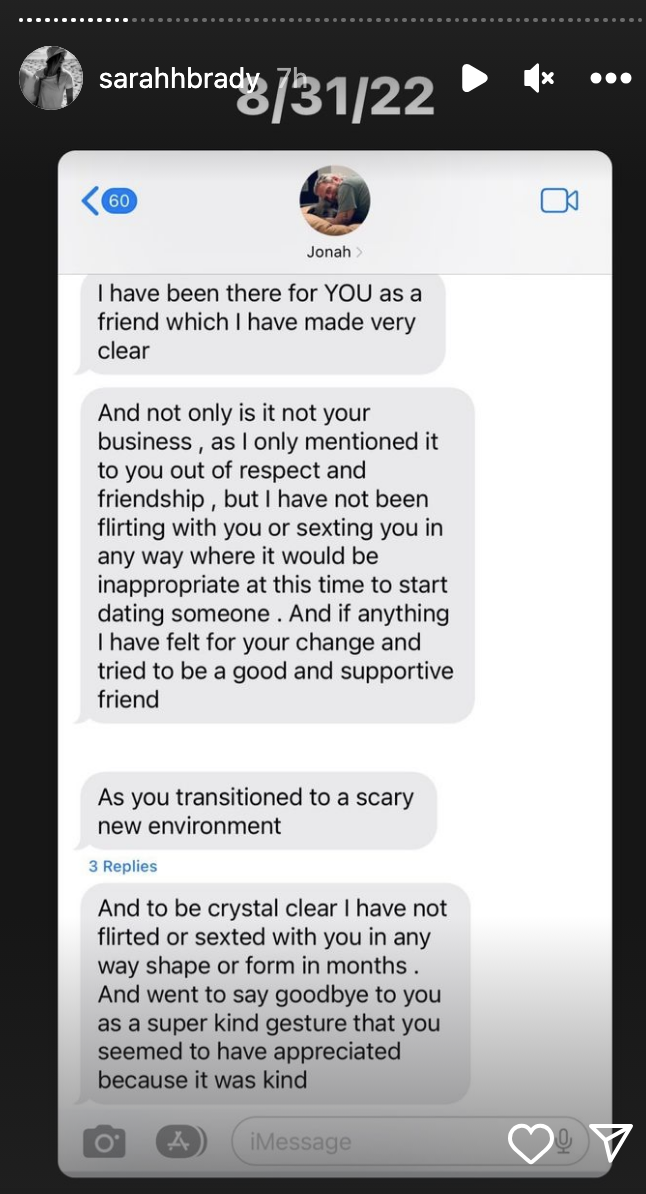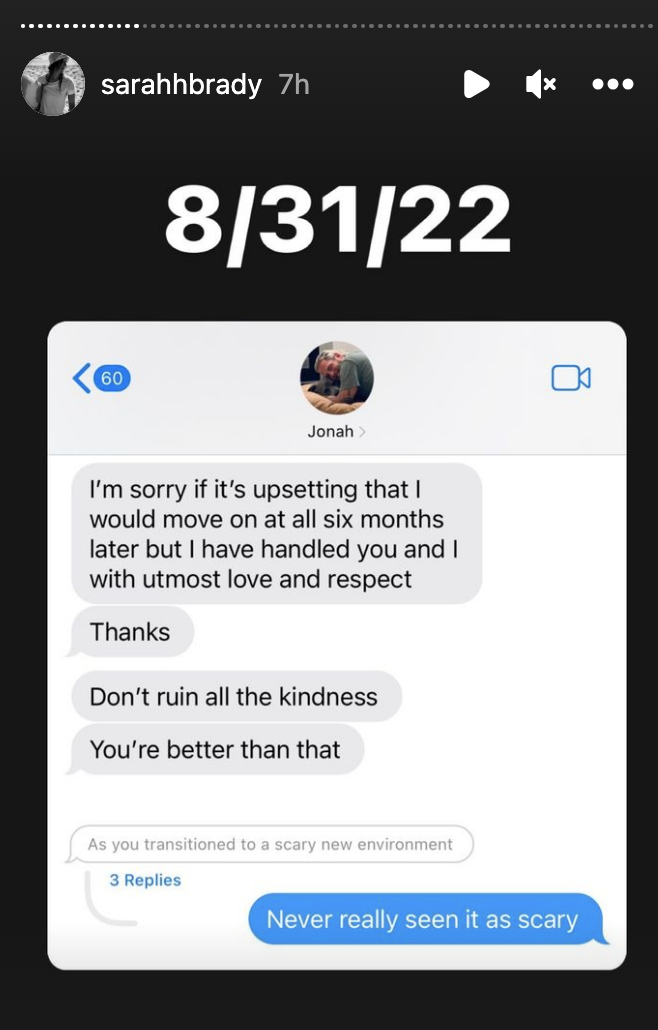 Sarah privately shared a censored NSFW message screenshot, allegedly sent by Jonah just weeks prior on July 13, 2022.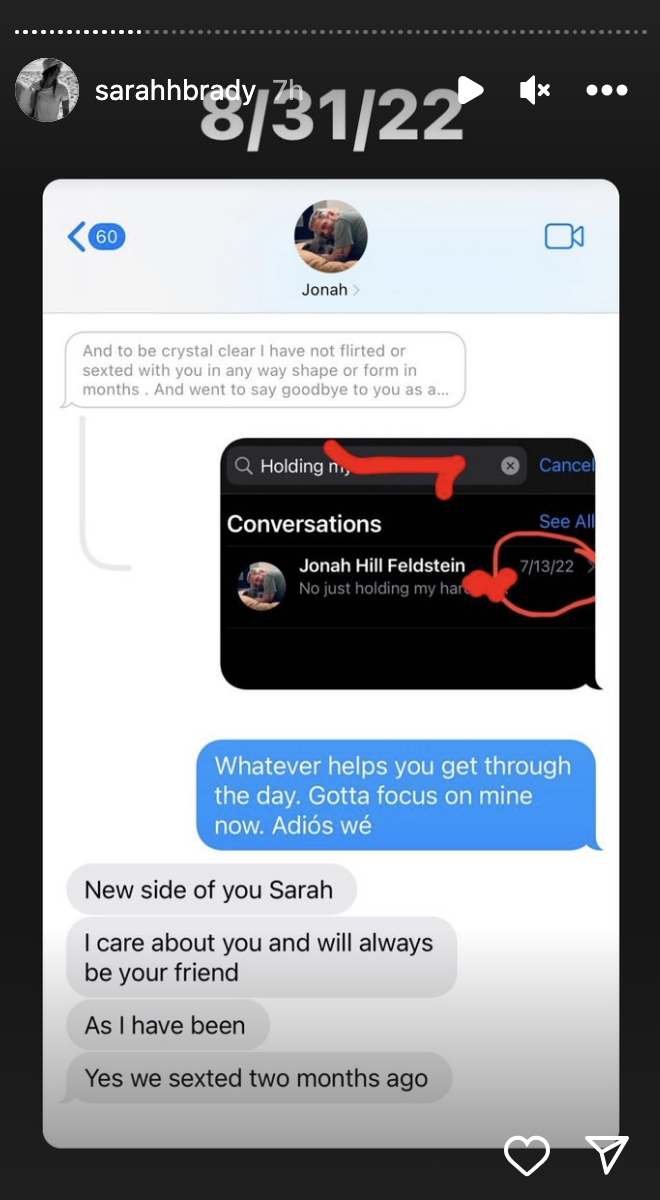 Jonah responded, calling her act a "huge triggering violation" and a breach of trust. He expressed feeling hurt and unsafe, stating that he had always trusted her and shown kindness and support.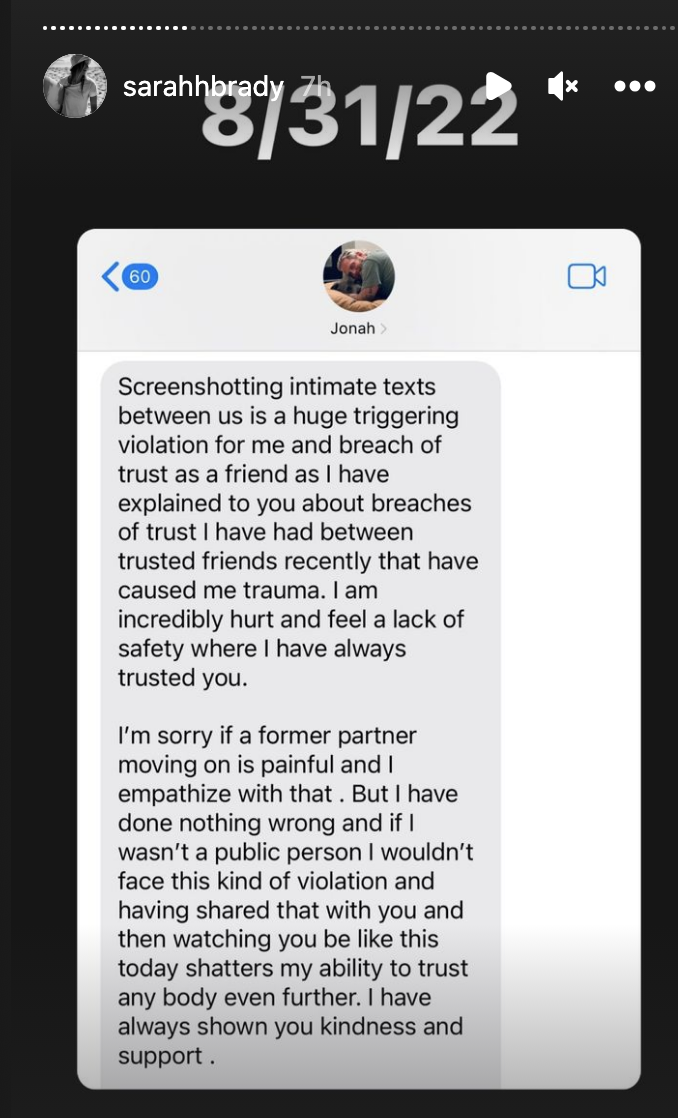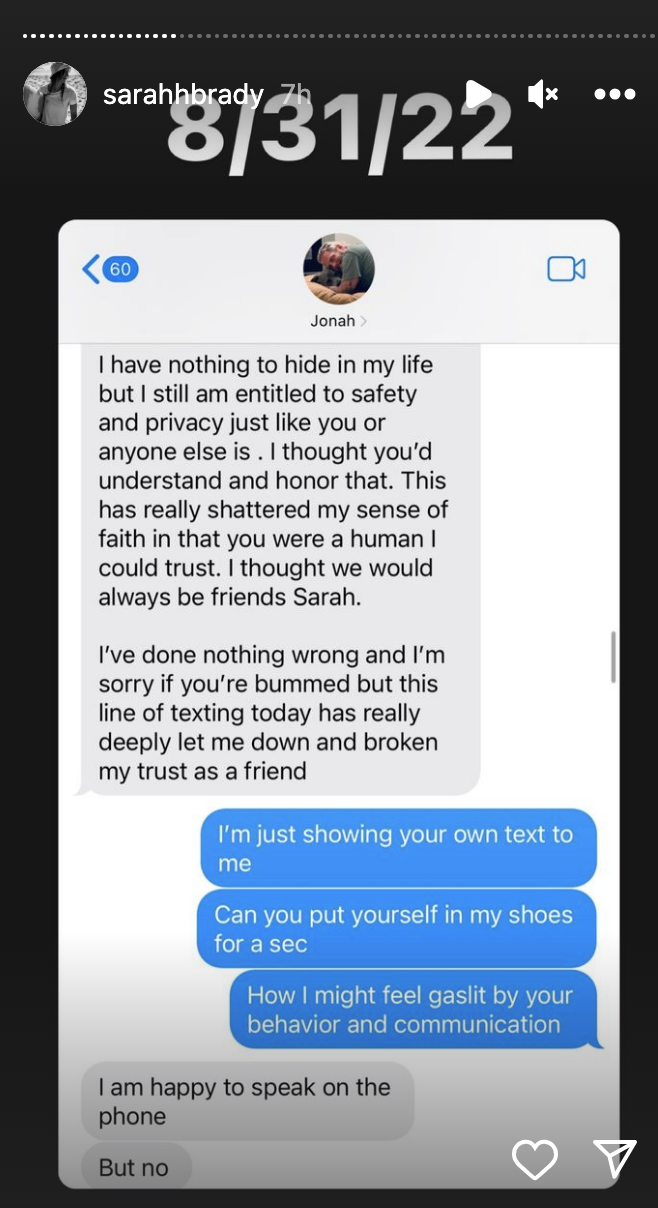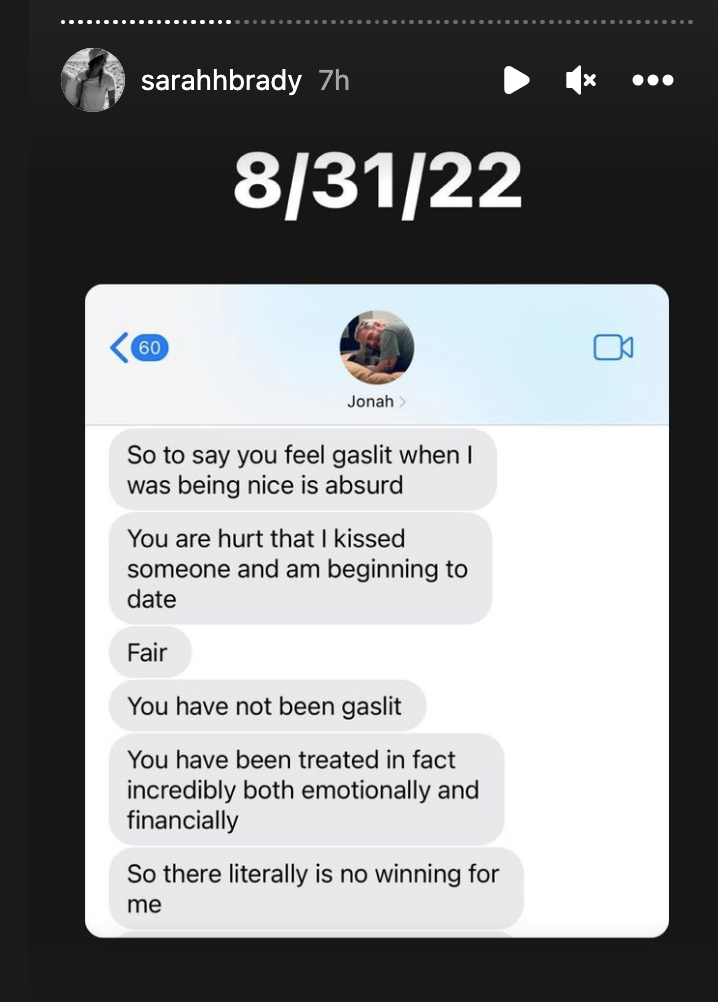 Sarah highlighted financial promises Jonah had allegedly made to her due to work opportunities she had declined at his request. She expressed feeling used and regretted adjusting her life to accommodate his insecurities, jealousy, and codependent anxious-avoidant attachment style, which left her in a less financially independent and mentally well state.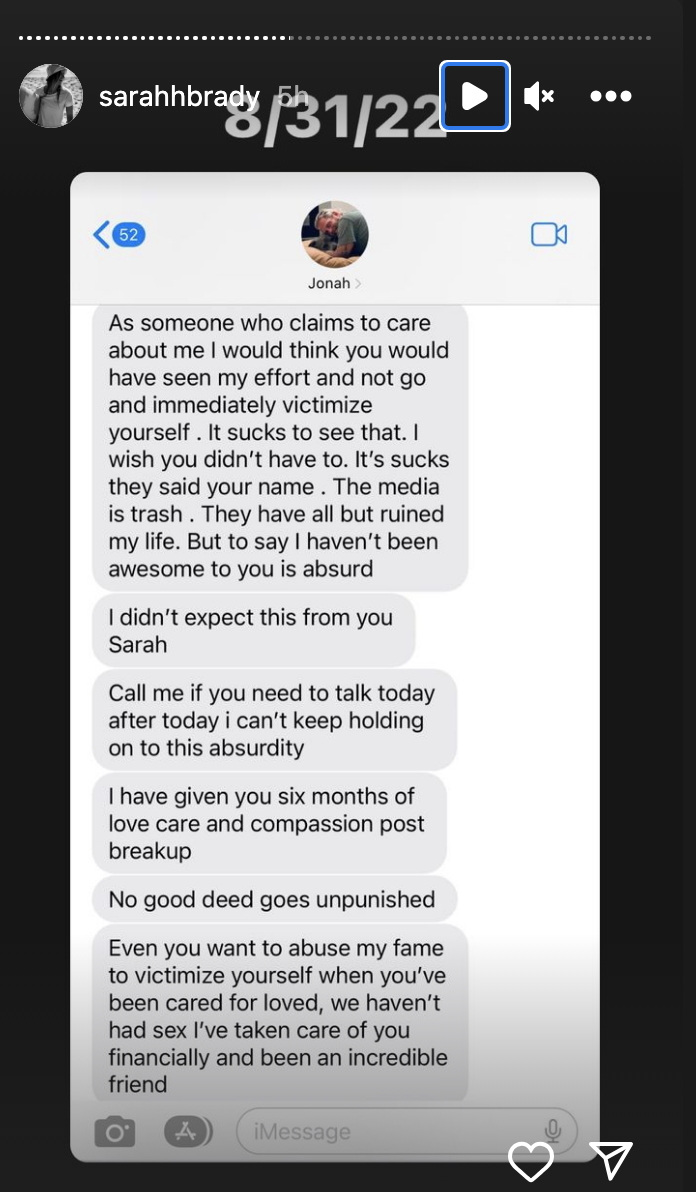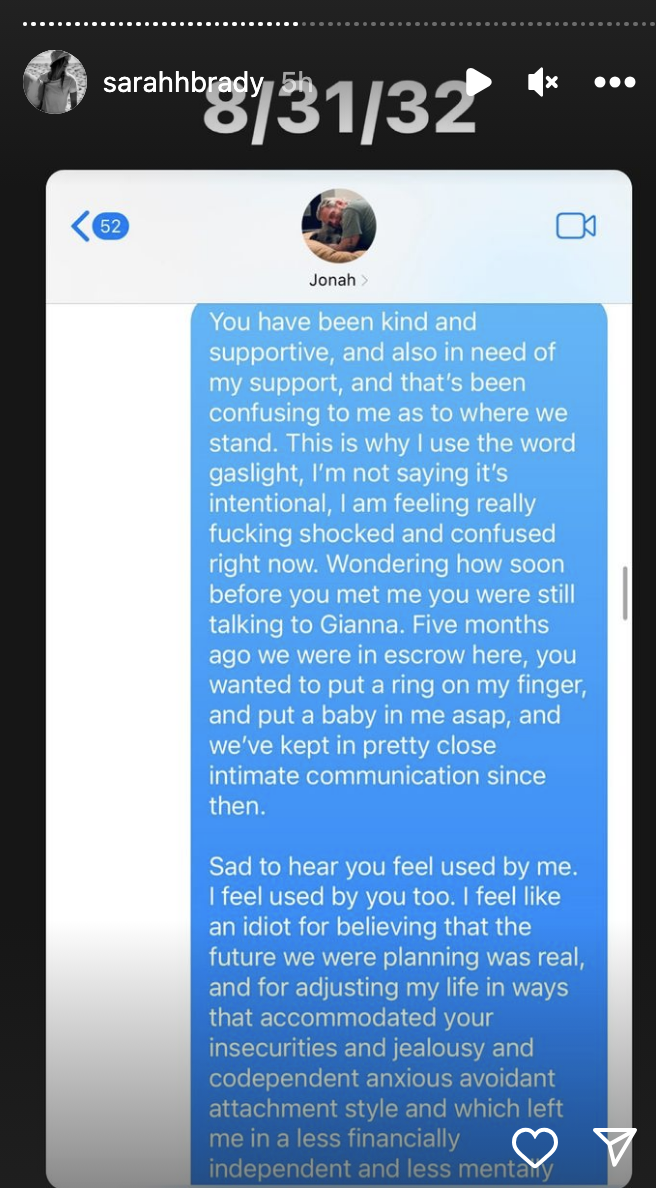 Sarah mentioned that Jonah had expressed intentions of proposing and starting a family five months prior. She believed there was still hope for their relationship and had saved room in her heart for him. She claimed to have been a consistent emotional support for him, despite being unaware of his emotional unavailability to start new relationships.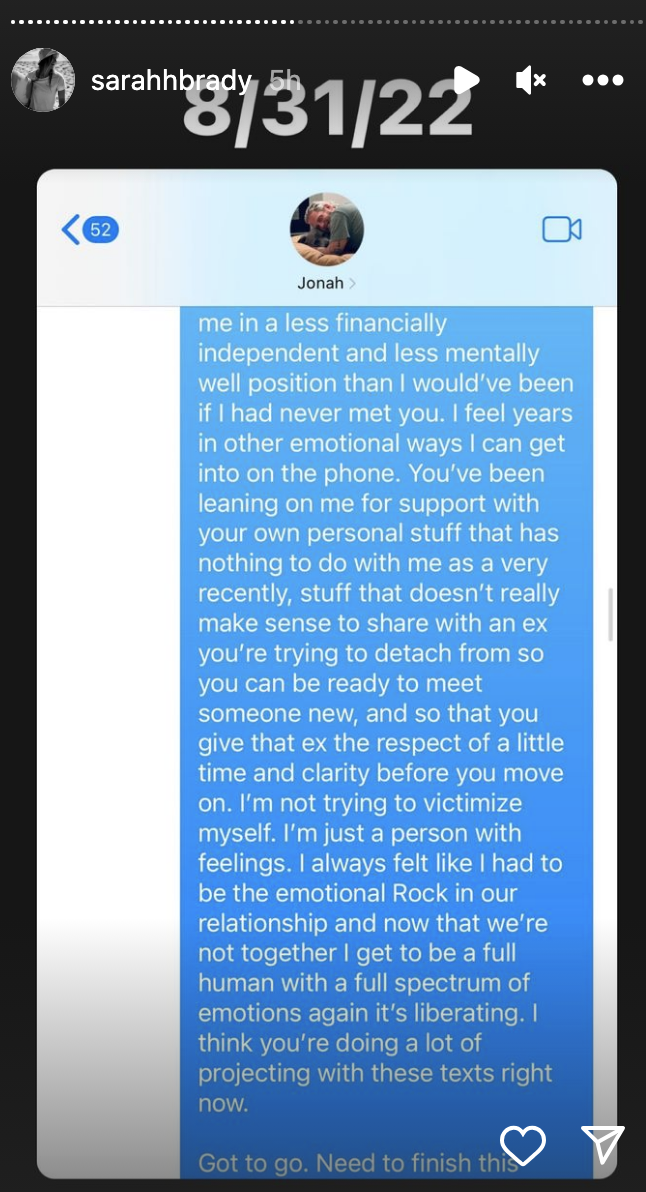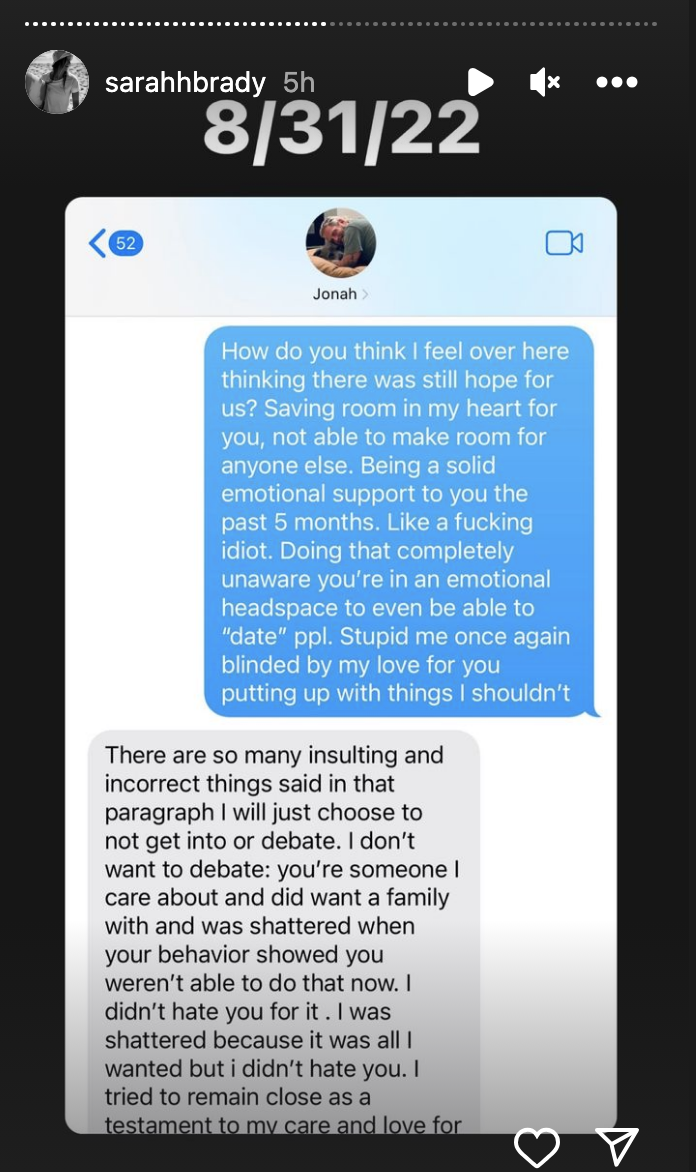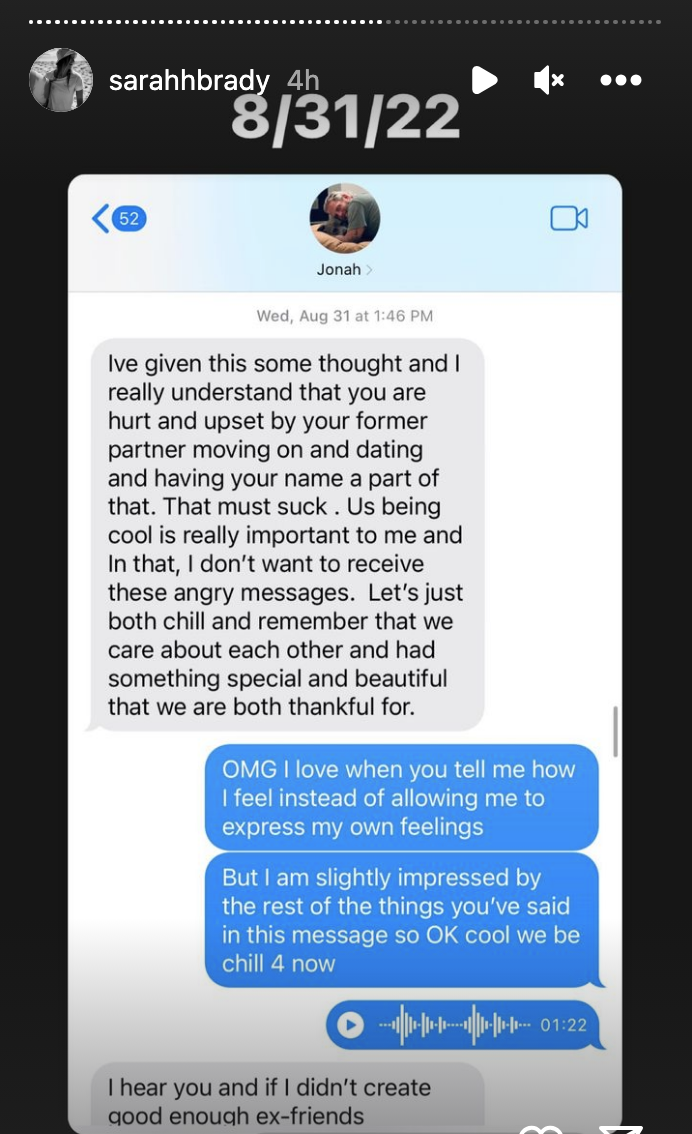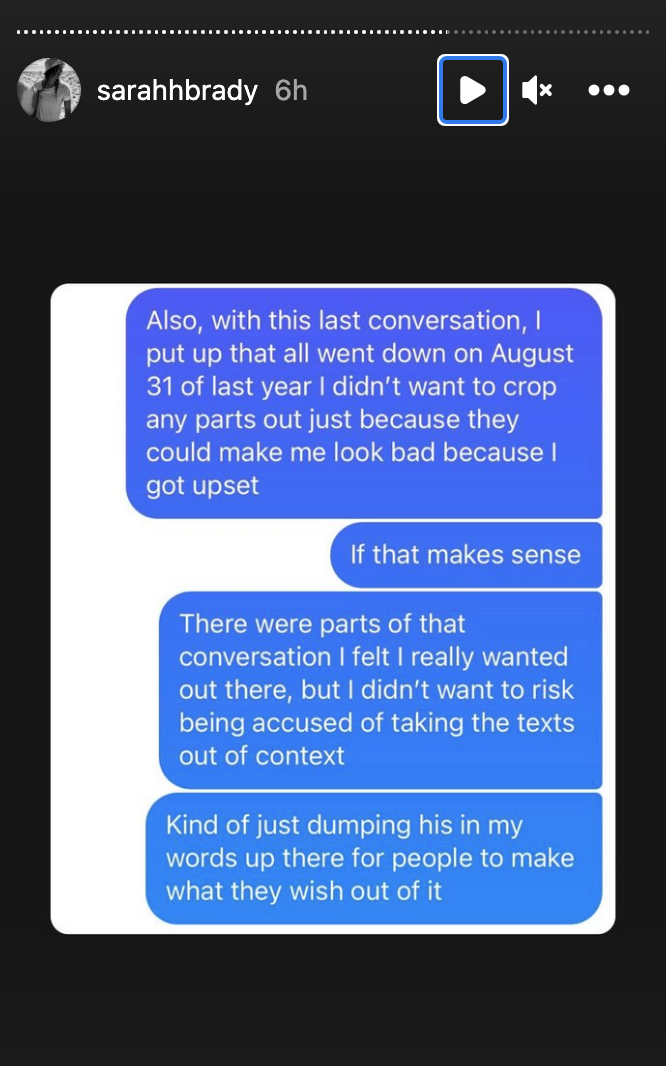 Sarah went on to share: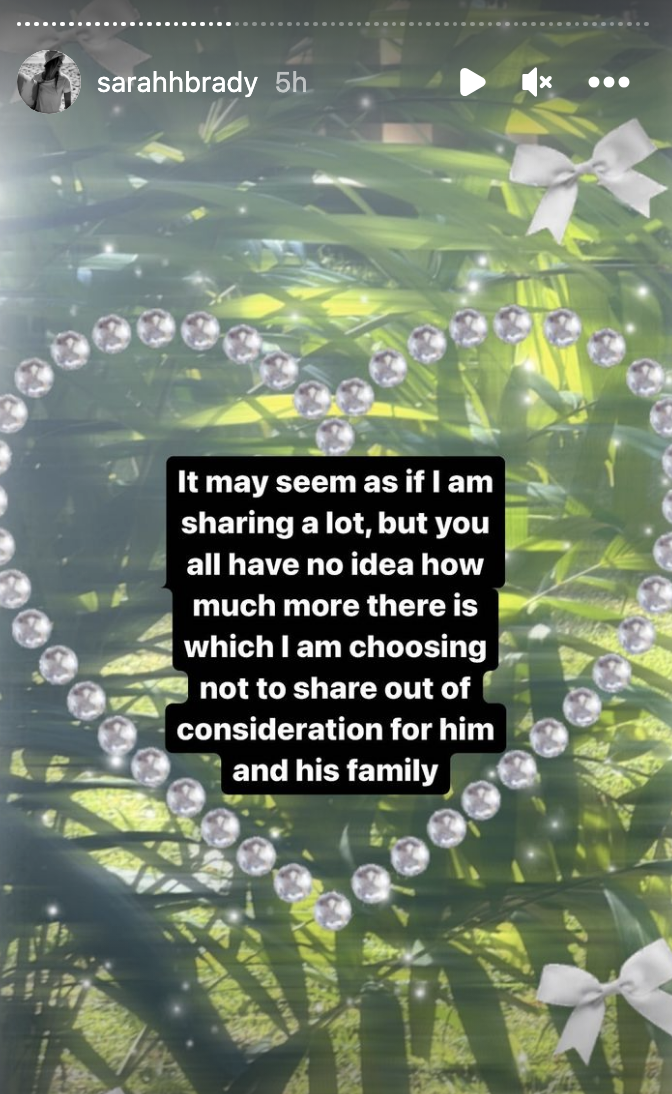 Jonah Hill has yet to publicly comment on the alleged texts.